Texts are an important way of communicating information. Whether it's a work-related update or a rendevous with friends, you'll find yourself in the need to save all those text messages. All modern smartphones offer a way to back up your core data and transfer it to another device. But transfers tend to leave out text messages many times until and unless you take screenshots or transfer across the same mobile operating system.
So if you have plans to change your Android phone or even reset it, then you should pay heed to back up all your data, and especially the backing up of text messages on Android devices, which can prove to be quite a pickle. So if you want to save all those precious texts, we'll give you many ways to back up text messages on Android. If you're an Android user and want to delete your phone's data, then you would know many ways from which you can back up your phone priorly.
Cloud can help a lot in bringing back all your data seamlessly, but if you want to back up your SMS inbox, you'll need third-party tools. Google Play provides a plethora of choices, but not all of them are reliable. Most of these apps will require your Gmail account access to restore data, but if you don't feel like giving the permissions, we have some trusted alternatives to backup SMS messages on our Android phone.
Here on this webpage, you'll find everything you need to know about backing up (and restoring) your phone's SMS inbox, which can be saved on the device, mailed to yourself, or saved to the cloud. This will come in handy when resetting your phone to factory settings, or if you're switching to a new phone. Here we provide and navigate through three methods to save text messages before changing your Android device or resetting it.
Methods To Save Text Messages Before Changing Your Phone
1) Backup Text Messages to Google Drive
This is the most common method. If you have Android 8 version or above, then Android allows you to save your contacts, app data, device settings, SMS text messages, as well as call history to Google Drive. So your text messages are safely backed up in Google Drive and you can restore them when you sign in on your new phone.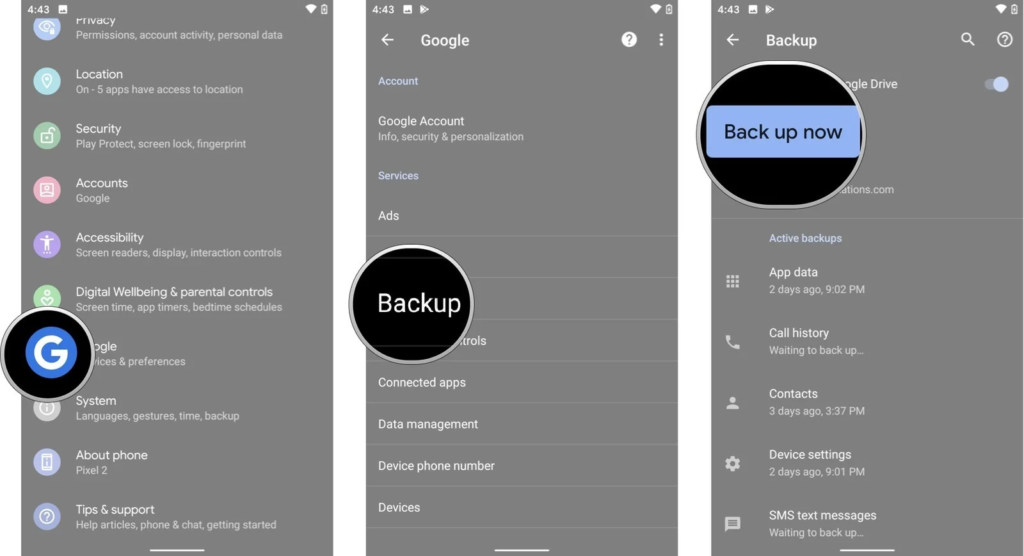 Step 1: Open your device Settings. You'll find Google(or System) at the bottom, click on it.
Step 2: Select Backup and then tap on on Back up to Google Drive.
Step 3: Click on Account to choose your Google account.
Step 4: Tap OK to confirm and submit.
Step 5: Alternatively, you can click on 'back up now' just before switching to a different phone or erasing the same one's data, and all your texts will be backed up.
Also, before you format your current phone, check the backups in the Google Drive app to confirm and ensure your data's safety. This is how:
Step 1: Open the Google Drive app on your device.
Step 2: Go to the side menu and click on Backups.
Step 3: At the top will show the most recent backups. Click on it and see if the backup date/time for your SMS matches your deed.
2) Use SMS Backup & Restore
If you don't want to rely on Android's backup, then the SMS Backup and Restore app offers a sturdy SMS backup service, all the while adding some flexibility. First of all, download the app and then follow the below steps carefully.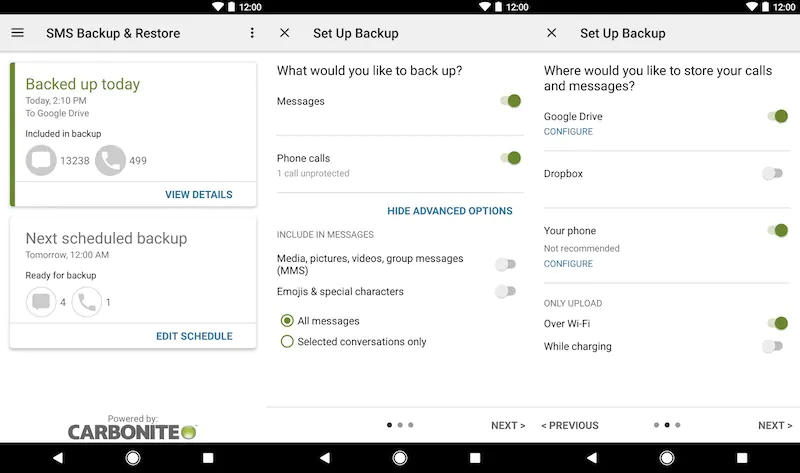 Step 1: Launch SMS Backup andRestore, then give the necessary permissions for smooth functioning.
Step 2: Click on Set Up A Backup on the user interface. If you wish, you can untick Call Logs if you just want to save your texts.
Step 3: Click on NEXT at the bottom-right corner.
When you need to restore those texts on the new phone, you'll need to download this app again and follow the below steps after following the above Step 1.
Step 1: After the above step 1, click on the 3-dash icon at the top-left corner of the screen so the side menu can be opened.
Step 2: Choose your storage location where you wish to restore all your data and log in to your own account.
Step 3: Select one single backup to restore from (Messages), then select RESTORE.
3) Backup and Restore SMS via SD Card
The above two methods will let you backup your SMS messages using the cloud. But if you wish to save your text messages only locally, you won't need any third-party apps. In fact, a few manufacturers release their own Backup app on their smartphones, which can also let you backup messages to your SD card. It is pretty easy to do. All you require is a working SD card, the backup & restore feature and you're all set.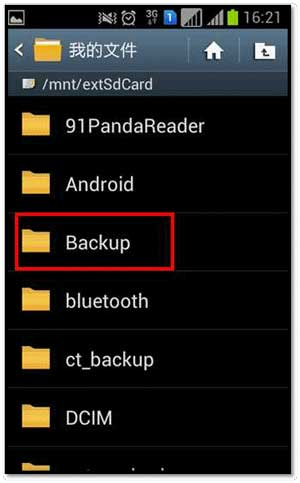 Follow these steps:
Step 1: First of all, insert a good SD card inside your device.
Step 2: Afterward, open the Backup & Restore app from your drawer or directly move to Settings > System > Backup & Restore.
Step 3: Choose it, and then choose Personal Data too.
Step 4: Tick the box beside Messages on the list.
Step 5: Click the Backup icon at the bottom of the screen. If you want, you can also rename the folder.
In order to restore your text messages, all you need to do is insert your SD card on your new phone, open Backup & Restore, then select on the Restore tab to choose a backup you wish to restore.
Final Words
You can always save text messages via the Cloud. It ensures easy restoration and is quite reliable after all. But if you wanna backup those texts, third-party tools are a must. If you cannot let go of all those memorable and precious texts, then go through these methods in order to save those texts on Android.
You can either go through it using a cloud backup like Google Drive, or you can store those messages locally on your SD card. In whichever way you prefer, if it's from this webpage, you will get all your text messages handled and restored safely.