Are you an iPhone user and tired of battery drain issues, no need to worry about anyone? Here in this article, we are going to share some extremely powerful tactics which will boost battery capacity, save the battery life of your iPhone and the fact is, these tricks effectively work on all iOS versions.
Most of the time we get questions about batteries that Is it a hardware problem or do we need to fix the software? In our experience, 90% of the time it occurs due to software problems.
You need to stay updated with your handy device all the time, the software updates are mean to help you with the bugs & issues you're facing now. Because there are millions of other users, as you, who face the same issues and the company has to settle all them at once. That's why they release software updates every few weeks to track all the issues and solve them all at a time.
For the software updates you could visit the nearby Apple Store and ask them to do it for you, this will be free or depends on the service warranty of your smartphone. If they ask you about any fee, consider it as their labor or incentive amount of handling and caring of your device. This seems legit to most iPhone users, as it's an expensive gadget that should be treated well if you're going to use it for a long period of time.
That's a lot of talk, now it's time to step ahead to the points which you should follow to keep your battery life more productive.
Let's start with the routine tips, for this, you don't have to be an IT Geek or tech expert. Just follow the lines and you'll surely see a major impact on your iPhone's battery life.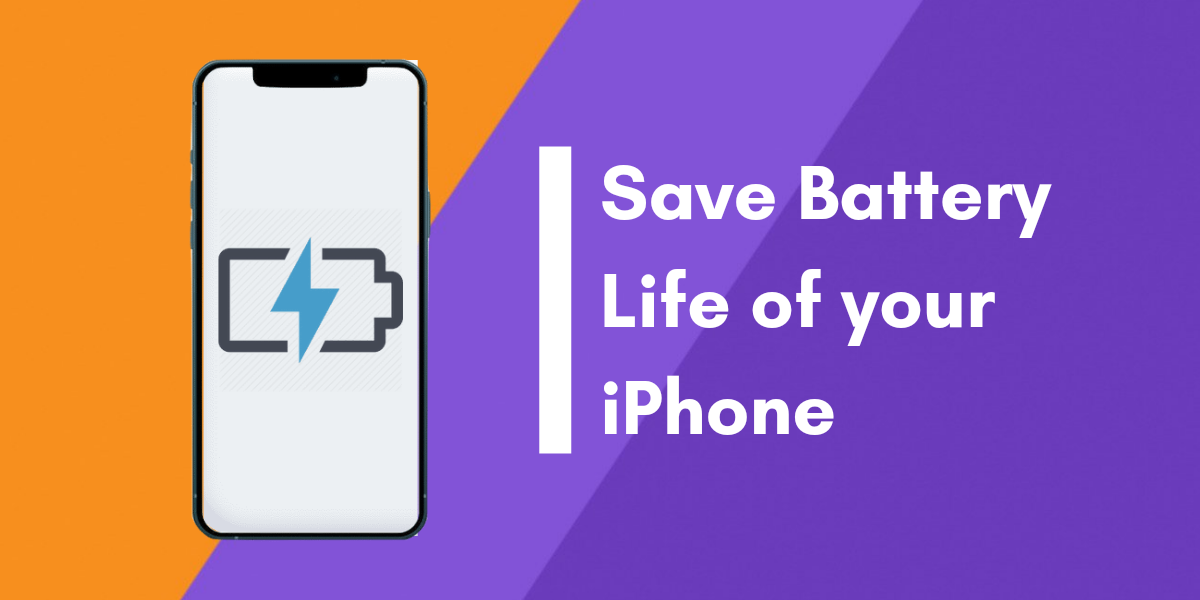 Remove the Cases
If you're kind of protective or possessive for your smartphone and cover it with some strong case or covers, we recommend you remove them while charging your iPhone. Sometimes the flow of heat doesn't pass through the vents of your smartphone because of those hard cases and it produces heat while charging the iPhone.
Let it Charge
Don't use your phone while it's on charging, it's the most common fact we all are familiar with. This term is for all smartphones, not only iPhone but for Android too. DON'T USE THE DEVICE WHILE CHARGING. It won't take much time to get full charges, so wait for the turn.
Be Original
Never use third-party chargers on your iPhone, always depend on the original and genuine products. If you fall for any quick charger from the off-market seller, this will kill your iPhone's battery life within a few months for sure.
Not only following the above steps will do all the job, you must have reduced some applications or enable battery-saving tricks on the device also. Sit back because it's time to do the inner settings to save the battery life of your iPhone.
Software Updates
Keep checking for newer updates, if you ever see any updates, click blindly on that. Don't wait for anything, just do it as soon as possible.
Stills Wallpaper
We recommend you to use the stills wallpaper rather than dynamic (motion wallpaper). Because the dynamic wallpaper burns a lot of battery capacity, as it needs to be running all the time on your device which requires a battery.
To change the wallpaper, follow the instructions.
Settings > Wallpaper > Stills > Choose a New Wallpaper.
You can pick stock images or change them according to your gallery pictures.
Turn off the Services
Not always, but if it's possible, then don't hesitate to turn off your Internet, Bluetooth, GPS Location, and Wi-Fi. All these features consume more battery than any other available option of your device. If you're not using any of them, then don't let them ruin your battery percentage. To turn off the settings you should explore these sections.
Location: Settings > Privacy > Location Services
Wi-Fi: Settings > Wi-Fi
Bluetooth: Settings > Bluetooth
AirDrop: Settings > General > AirDrop > Receiving Off
Lower Brightness
If you're indoor and using it under your blanket, don't increase the brightness. Keep it low as long as you can, because brightness eats the battery top quick that you won't get any chance to notice the sudden drop. We suggest you leave this feature on auto-mode, this way your device will do the brightness adjustment job for you. Go to the
Settings > Accessibility > Display & Text Size > Auto-Brightness and turn it on.
Power Mode
When you're traveling or busy somewhere rather than using your device, better to turn Low Power Mode on through your settings. This way you can keep your device active all the time, along with this, it will kill all the background applications, unwanted notifications, or RAM-consuming tasks. To turn on the settings, Go to Settings > Battery > Low Power Mode.
Final Verdicts
We hope this article helps you out to Save the Battery Life of your iPhone, if still, you're facing reduced battery drain issues, you might need to visit the Apple Store and let them know the issues. If our article worked for you, and you're still here to thanks us, make a share of this post with other iPhone users.